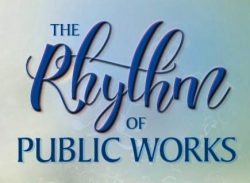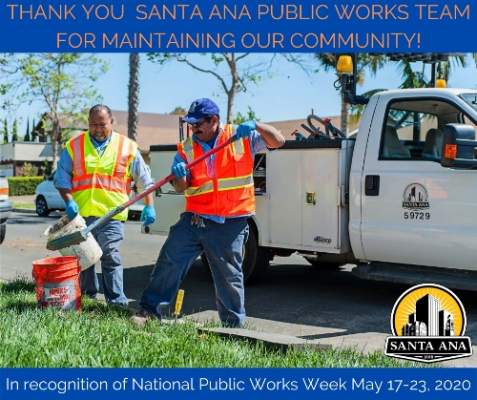 During the week of May 17-23, 2020, the City of Santa Ana is celebrating National Public Works Week by recognizing the City's Public Works Agency with a Proclamation at the May 19 City Council meeting.
Public Works include those who manage water, sewer, fleet services, public roadways, sidewalks, and the maintenance of public buildings and grounds. Public Works has been serving the Santa Ana community for over 150 years.
It is the City's Public Works Agency that keeps our Santa Ana community beautiful and moving smoothly. Whether performing roadway repair, water and sewer services, solid waste collection, graffiti removal, pothole repairs, or capital improvements, it takes a team of versatile employees to provide some of the City's most essential services. The community's quality of life starts with Public Works.
The City of Santa Ana has over 200 dedicated Public Works employees, all responsible for maintaining and improving the City's systems and services. For Santa Ana residents, City officials recognize these services are "vital to our health, safety and comfort."
Public Works is often the first to arrive and the last to leave when the City has an incident. We encouraged the community to recognize the significant contributions the City's Public Works team makes to protecting everyone's health, safety, and quality of life. For more information about the City of Santa Ana Public Works, visit https://www.santa-ana.org/pw or click here to view the video.
La Ciudad de Santa Ana Celebra la Semana Nacional de Orbras Públicas
Durante la semana del 17 al 23 de mayo de 2020, la Ciudad de Santa Ana está celebrando la Semana Nacional de Obras Públicas al reconocer a la Agencia de Obras Públicas de la Ciudad con una Proclamación en la reunión del Consejo Municipal del 19 de mayo.
Las Obras Públicas incluyen a aquellos que administran agua, alcantarillado, servicios de vehículos, vías públicas, banquetas y el mantenimiento de edificios y terrenos públicos. Obras Públicas ha estado sirviendo a la comunidad de Santa Ana por más de 150 años.
Es la Agencia de Obras Públicas de la Ciudad la que mantiene a nuestra comunidad de Santa Ana hermosa y en constante movimiento. Ya sea que realice reparaciones de carreteras, servicios de agua y alcantarillado, recolección de desechos sólidos, eliminación de grafiti, reparaciones de baches o mejoras de capital, se necesita un equipo de empleados versátiles para brindar algunos de los servicios más esenciales de la Ciudad. La calidad de vida de la comunidad comienza con las obras públicas.
La Ciudad de Santa Ana tiene más de 200 empleados dedicados de Obras Públicas, todos responsables de mantener y mejorar los sistemas y servicios de la Ciudad. Para los residentes de Santa Ana, los funcionarios de la Ciudad reconocen que estos servicios son "vitales para nuestra salud, seguridad y comodidad".
Obras Públicas frecuentemente son los primeros en llegar y los últimos en salir cuando la Ciudad tiene un incidente. Alentamos a la comunidad a reconocer las importantes contribuciones que hace el equipo de Obras Públicas de la Ciudad para proteger la salud, la seguridad y la calidad de vida de todos. Para obtener más información sobre las Obras Públicas de la Ciudad de Santa Ana, visite https://www.santa-ana.org/pw o haga clic aquí para ver el video.