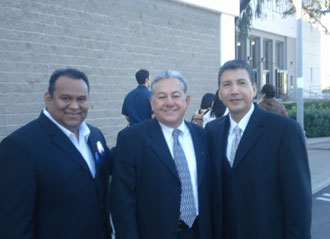 Santa Ana City Councilman Sal Tinajero, Chancellor of Rancho Santiago Board of Trustees, Eddie Hernandez, and Councilman Sarmiento at the Bill Clinton Rally Event for Hillary Clinton.  Photo Courtesy of Vincent Sarmiento.
This just in, from Santa Ana Councilman Sal Tinajero:
You are invited to a fundraising reception in honor of Sal Tinajero
Councilman, City of Santa Ana
Director, Orange County Sanitation District Board
2006 National Hispanic Teacher of the Year
2009 California Golden Bell Award Recipient
With Special Guest and Master of Ceremony Actor Tony Plana, the Co-Founder East LA Classic Theatre, Leading Role in ABC's Ugly Betty.
When: Tuesday, April 27 2010 Continue reading→