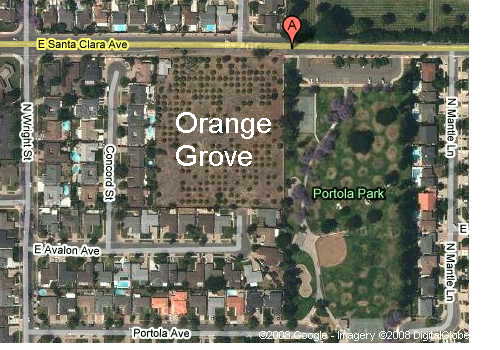 An organization calling itself "Save the Sexlinger Orchard" has announced a demonstration on Saturday, May 7, from 9:00 am – 12:00 noon, to bring attention to our cause.  1584 East Santa Clara Avenue, Santa Ana, CA 92705.
According to their Facebook page, the proposed housing project is about to formally enter a period of public debate.
They are requesting that you bring your own hand held signs with appropriate sentiments about the cause. Check for parking at Portola Park immediately east of the orchard or in the neighborhoods in the area.
To help anticipate participant numbers please RSVP if possible to defendourorchard@gmail.com.
They also ask that you please contact the property owner, Concordia University, Irvine, office of the President: Kurt Krueger, President. Phone: 949-214-3194. E-mail: kurt.krueger@cui.edu.