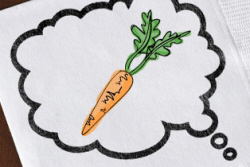 FOR IMMEDIATE RELEASE: MARCH 7, 2011
CONTACT: JENN STARNES, 949-724-6574
Getting Familiar with Food
Lecture and film series explores our connections to food
IRVINE – A new health and wellness education series at the Great Park may give you something to think about the next time you pick up "food" at the grocery store. "Food for Thought," a lecture and film series that focuses on our culture and the food we eat, begins with a lecture on March 10, featuring nationally-recognized food expert and author Mark Winne. He will speak about Reclaiming Our Connection to Food: Embracing Food Problems in a Day of New Solutions.
The lecture and film series are presented as part of the Great Park's health and wellness initiative that includes the Farm & Food Lab, Garden Workshops, Farmers Market and other programs providing innovative and interactive learning and resources.
"At the Great Park, we want to explore health from a global, community, and personal level and encourage communities to support healthy lifestyles," said Beth Krom, Chair, Orange County Great Park Board Corporation. "Good food and good health go hand in hand."
The free lecture begins at 7:30, and Winne will sign copies of his book, Food Rebels, Guerrilla Gardeners, and Smart-Cookin' Mamas. The "Food for Thought" film series will present three award-winning documentaries King Corn (April 21), Food, Inc. (May 19) and Dirt! (June 9).
Each night you can bring a picnic to enjoy on the lawn or buy dinner from a selection of gourmet food trucks beginning at 6:30 p.m. Seating will be provided for the lecture, and visitors should bring blankets or beach chairs to sit on the lawn for the outdoor movies and dress for cool evening weather. Films start at dusk and run about 90 minutes. For more information, go to www.ocgp.org
About the Great Park
The Orange County Great Park, with its 1,347-acre master plan, is the focal point of the redevelopment of the publicly-owned portion of the 4,700-acre former Marine Corps Air Station, El Toro. The Great Park is currently 27.5 acres and includes an iconic tethered helium balloon that rises 400 feet in the air, providing an aerial view of Park development. A $70 million development plan to expand the Park to more than 200 acres is currently underway. The plan will build out a core section of the Park for the most immediate and wide-ranging public benefit, including the initial components of the sports park, a 114-acre agricultural area, and an art and culture exhibition space. For more information, please go to www.ocgp.org
###