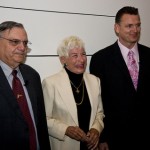 Did Latino voters put Sheriff Sandra Hutchens over the top?  I think it was a factor.  She trashed racist Bill Hunt, who now presumably will have to move to Arizona and perhaps become Joe Arpaio's personal driver.
Hutchens ended up with 51.9% of the vote.  Hunt only got 28% of the vote.  Adios Hunt!
Click here to read the rest of this post.