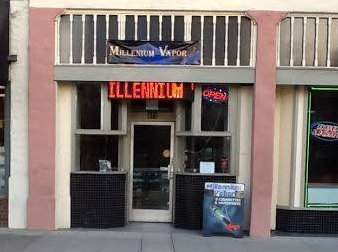 Former Santora Building artist Matt Southgate will be exhibiting paintings at the new Millennium Vapor Shop, directly across from Rags Newspaper Stand and The Crosby, this weekend. The owner of Millennium Vapor wants to be part of the Artists Village and participate in the Artwalk!
Millennium Vapor will be hosting an Open Mic night this Saturday, April 5, 2014. If anybody is interested in solo or duo acoustic performance openings for this Saturday please contact Matt at mattsouthgateart@sbcglobal.net.
Millennium Vapor Shop is located at 411 N. Broadway Street, in Downtown Santa Ana.  Call Matt if you have any questions at 714-381-9136.
Millennium Vapor Shop sells Electronic cigarettes, e-juices, and all you need for your vaping times.  Uncle Junks, Alt-Cigs, Planet Vape, Caterpillar juices.  Starter kits, I Tazte, K100, K101, ego twist, etc.