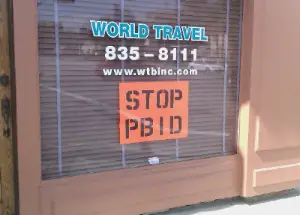 The Santa Ana City Council Monday night set a public hearing for July 1 to hear protests from business owners regarding a newly proposed tax to replace the property taxes that funded controversial Downtown Inc, according to the Voice of OC.
Under a settlement agreement, the city would for three years provide $400,000 annually for Downtown Inc.'s cleaning and security services. The proceeds of the new district would be equally split between two groups — Downtown Inc. and the Santa Ana Business Council, a group composed of merchants who opposed the special property tax and are likely to conduct more Latino-oriented promotions.

The city agreed to propose a new business improvement district that would tax 622 businesses rather than properties but is projected to generate substantially less revenue than the previous tax district. "It's not as aggressive, it's not as much money and it's a different type of tax, if you will," said Mayor Miguel Pulido.

Under the proposed district, businesses would be taxed based on their business license fees.

For retail stores, restaurants, theaters, hotels, service stations and amusement services, the tax assessment would be 1.5 times their annual business license fees.

For commercial and residential rental property, the assessment would be one-fourth of the annual business license fees.

At an average assessment of $415 per business, the district is expected to generate $250,000 this year, according to a city staff report.

Businesses have until July 1 to submit their protests against the proposed tax district to the city. In a weighted tally, if a bloc of businesses paying more than 50 percent of the assessments protests the formation of the new tax district, then it won't be approved and can't be considered again for 12 months, the staff report states.

Councilwoman Angelica Amezcua, who voted against setting the public hearing, said she was concerned that businesses hadn't received enough advanced notice of the meeting. She pointed out that informational meetings hosted by the two booster organizations earlier this month were only attended by 21 businesses.
This is shameful!  Councilmenber Amezcua is right.  There should be no tax or fee of any kind.  If a few businesses in the Downtown want to do this they should just pony up the money themselves.
Staff will be sending notices about the hearing via both regular and certified mail to merchants within the district. And for the returned mail, staffers will be hand delivering the notices, they said.
Santa Ana's downtown businesses need to stand up and oppose this!