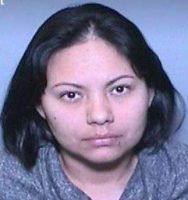 In January 2016, a police investigation began after the Laguna Beach Corporation suffered a grand theft totaling over $80,000, according to the Laguna Beach Police Department.

The investigation led to Nhora Tellez, a 38-year-old Costa Mesa woman who was the victim's office manager and bookkeeper. Having access to the victim's financial information allowed Tellez to use this information to her advantage.
Tellez is accessed of changing the victim's investment and credit card accounts. Any notices of fraud were routed to an e-mail address assigned to Tellez, so the victim had no idea what was going on.
Purchases were made for vacations, veterinarian visits, Disney passes – none of which were recognized by the victim.
Numerous ATM machines throughout Orange County were also used to withdraw funds. After reviewing surveillance footage from various ATM's, Tellez was positively identified as the individual who completed the fraudulent transactions.
Through an investigation in partnership with the Orange County District Attorney's Office Major Fraud Unit, it was determined Tellez embezzled over $265,000 from the victim.
Tellez is being held in Orange County Jail on a $260,000 bail.
Gary R. King is listed by the State of California as the Agent of Process for the Laguna Beach Corp. He is an attorney with a law practice in San Juan Capistrano. King has more than 35 years of experience practicing in several areas, including business and corporate law, business purchases and sales, estate planning, probate, and transactional matters.