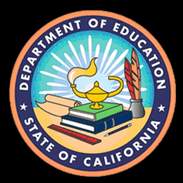 The California Department of Education introduced new COVID-19 guidance for K-12 schools on Tuesday, covering distance learning and student meals.
Similarly, the state's Health and Human Services Agency shared considerations for child care and supervision.
"It is imperative that we exhaust all efforts to minimize the disruptive impact a school closure can have on our students and their families," State Superintendent Tony Thurmond said.
Developed by state educational leaders in collaboration with the governor's office, the resources are intended to address some of the more pressing concerns of teachers, administrators and parents in the wake of school closures.
Here are some of the highlights:
Distance learning
Districts should use a combination of technology and non-technology based activities. Additionally, students can work semi-independently, while teachers are available for "office hours" and student check-ins.
Districts must consider equity and access for students who may not have necessary technology when developing distance learning programs. Districts are encouraged to work with their local internet service providers and community groups to help ensure families receive free or affordable internet access during this time of crisis. Districts can also make available to students devices such as Chromebooks so they can connect with teachers.
Schools can also make available paper workbooks for families to pick from schools if online learning is not the most convenient option. For these students, teachers can schedule in-person meetings with individual students as long as they follow CDC health guidelines, including social distancing procedures.
For more, visit https://www.cde.ca.gov/ls/he/hn/distancelearning.asp.
School meals
Districts should continue offering nutritious lunch and breakfast options, especially for those children ages 18 and younger who rely on free or reduced-priced meals during traditional school hours.
Meal distribution sites should be located in areas that are easily accessible to children eligible for free or reduced-price meals. Schools do not need to distribute meals on a school site and can distribute them at another site convenient to the community such as, but not limited to, local food banks, resource centers, Boys and Girls Clubs, YMCAs, community centers and libraries.
No meal applications or fees should be collected from children or families. But currently, children must be present to receive meals.
For more, visit https://www.cde.ca.gov/ls/he/hn/schoolmeals.asp.
Child care and supervision
Districts receiving funding for child care programs should, to the extent practicable, arrange for supervision for students during ordinary school hours.
Districts should coordinate with the local Health Care Agency to ensure these programs remain safe for students and staff.
Districts should collaborate with community partners and other local and state government agencies to provide "pop-up" child care centers for emergency responders and other workers in jobs deemed essential during a time of crisis.
For more, visit https://www.cde.ca.gov/ls/he/hn/guidance.asp.
The full guidance can be found at www.cde.ca.gov/ls/he/hn/coronavirus.asp.
"Child care, educational options, meal service, and providing support to our students with disabilities are all issues that our school communities are grappling with right now," Thurmond said in a statement. "I am pleased that the governor provided the necessary answers and solutions that our LEAs (local education agencies) need to move forward as they continue to support and serve students throughout the state."