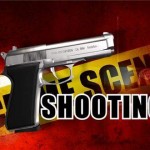 On Saturday, June 15, 2019, at approximately 11:30 p.m., a confrontation that started at a bar located at the 800 block of West 19th Street, moved to a parking lot across the street, and resulted in a suspect with handgun shooting a 23-year-old Costa Mesa man, according to the Costa Mesa Police.

During the confrontation, the suspect also fired rounds that struck some vehicles and businesses nearby before fleeing the scene. Police were dispatched and responded shortly thereafter. The victim, who sustained non-life-threatening injuries, was transported to a local hospital to be treated.

This is an active investigation and detectives are focusing on several parties of interest. Based on the data gathered at present, detectives believe this is an isolated incident and have no reason to believe there is an ongoing threat to public safety. CMPD will update the community once more information becomes available.

Anyone who has information about this incident or was a witness is asked to contact Detective David Sevilla, at 714-754-5360.