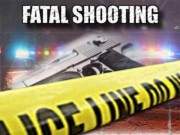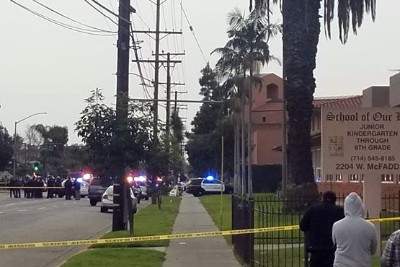 On Sunday, March 01, 2020, at approximately 4:15 PM, SAPD Officers responded to a call for service at Jerome Park (2115 West McFadden Avenue) regarding subjects fighting in the parking lot. As officers arrived in the area, a parishioner at Immaculate Heart of Mary Catholic Church (1100 South Center Street) flagged down a passing officer and reported a man with a gun inside the church. An officer immediately entered the church and encountered the suspect. At that time, an officer-involved shooting occurred. The adult male suspect ran out of the church. Responding officers located him, down and unresponsive, on Center Street south of McFadden Avenue. Officers recovered a firearm at the scene.
A small group of people was inside the church but services were not in progress at the time of this incident. No other persons were injured.
Orange County Fire Authority paramedics responded and declared the unidentified man deceased at 4: 36 PM. The identity of the decedent is being withheld pending positive identification by the Orange County Coroner's Division and notification of next of kin.
During the initial police response, reports of a possible second gunman and shots fired prompted officers to cordon off the several buildings on the church campus and conduct a systematic search of the property. Officers did not locate any other suspects or evidence of any other shooting.
The preliminary field investigation confirmed there was no evidence to suggest this incident was intended to be a mass casualty shooting and the Catholic church was not targeted. The Orange County District Attorney's Office, in conjunction with the Santa Ana Police Department Homicide Section are investigating. Investigators encourage anyone with information regarding this incident to come forward and provide a statement.
Santa Ana Police Department Homicide Section (714) 245-8390.
Voting at a nearby vote center has been suspended due to the shooting.