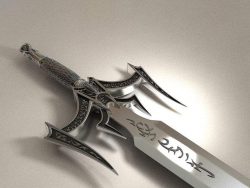 There is a reason police officers hate responding to domestic disputes. They never quite know what they are going to run into. Case in point – Tam Hyunh, a 20-year old man, was arrested this Sunday just after 6 p.m. at a home at the 9700 block of Acacia Ave., in Garden Grove, after he attacked and stabbed a man and a woman with a sword, according to the O.C. Register.
Reportedly Hyunh attacked the man, who was not identified, with a sword, in front of the house and family members had to separate them. A woman was stabbed in the leg during the melee. 
Both of the stabbing victims were taken to a local hospital. The Garden Grove Police did not reveal their names nor did they post their condition.
Hyunh was found inside the house and was arrested after what the police determined was a domestic dispute.
Will left-wing agitators in Garden Grove start demonstrating for a sword registration program?