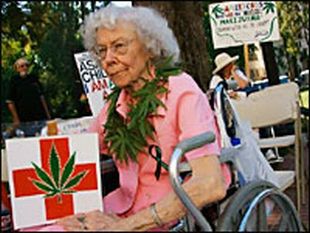 "Proponents of medical marijuana have begun collecting signatures to let Santa Ana voters decide whether the city should allow dispensaries to operate in the city" according to the O.C. Register.
The initiative's signature gathering is being coordinated by Debbie Tharp, a Libertarian who has run for the State Assembly.  She has since become an expert on ballot measure signature gathering and is making a living off such campaigns.  I ran into one of her signature gatherers a week ago at an Albertson's on 17th and Tustin Ave.  The Albertson's manager asked him to move back away from the entrance and he did so.  Tharp herself was arrested a few weeks ago while gathering signatures in front of a Mother's Market in Costa Mesa.
"While Santa Ana's 2007 ban on the storefront collectives has done little to stunt the growth of this fast-growing industry. The ban itself has allowed the city to send around their inspectors and handout fines to those collectives which ignored the cities "cease and desist order." Thereby causing financial hardship and forcing them to close down," according to Marijuana.com.
"The City presented the title and summary on July 31, 2012 for The Medical Cannabis Restriction and Limitation Initiative giving the proponents 180 days to collect the needed signatures to qualify for a special election or the next regular election in 2014," according to the ballot measure campaign's website.  That means they must finish gathering signatures by the end of September.
 You can read the proposed act here. The City of Santa Ana has set up an information page about the ballot measure here.
The proposed measure would limit collectives to certain commercial and industrial zones, and allow only those operating before Dec. 31, 2011, to continue. Under terms of the measure, dispensaries would be banned within 600 feet of K-12 classrooms and in residential areas. It also sets out standards for security and would require dispensaries to meet requirements established in 2008 by the state Attorney General's Office. Only members of a collective could buy medical marijuana and only marijuana grown by the collective or provided by a patient would be allowed for sale.
Will you support this initiative?  I signed the petition.  Will you?