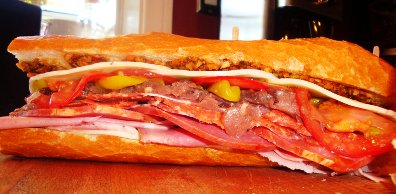 Wicked 'Wiches was formed with one goal – feeding the masses the best gourmet sandwich they ever, ever had.  And now they are opening up a restaurant in Santa Ana, after catering from a location in Fountain Valley since 2009.  They are in fact opening up this Friday, May 25, at 10:30 am, according to their Facebook page.  (A word of warning – their menu will be limited as their oven won't be installed yet).  I believe they close at 5:30 pm, so get their early enough to pick up dinner, or stop by for lunch!
Their food looks amazing.  The sandwich pictured atop this post is their "Bada Bing," for $8.95.  It looks pretty filling!  Other offerings include a Soyrizo Eggwhite Quiche (pictured below) and a spaghetti dish in a lemon cream sauce.  Boy does that sound good.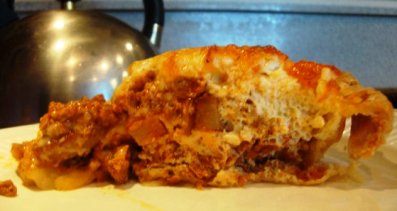 Their new restaurant is located at 3701 S. Harbor Blvd. Ste F, in Santa Ana. 
Contact info:
Jaime Lumia, Cheese Executive Officer
jaime@wicked-wiches.com
Telephone: 714-444-2107.
Click here to check out their Yelp page.