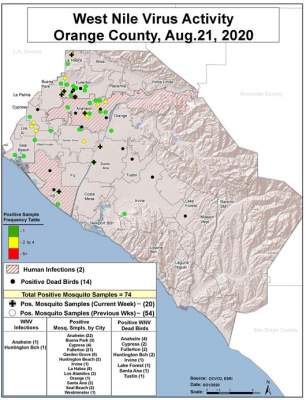 West Nile Virus positive mosquitoes have been detected in Santa Ana.
The virus has also been confirmed in the following cities:
Anaheim
Buena Park
Cypress
Fullerton
Garden Grove
Huntington Beach
Irvine
La Habra
Los Alamitos
Orange
Seal Beach
Westminster
To learn more about West Nile virus visit: bit.ly/WNVinOC
Mosquito control is a shared responsibility. Orange County residents need to do their part to control mosquito breeding around their properties and prevent bites. Eliminating mosquito breeding sources is critical to preventing the spread of West Nile virus.
To prevent mosquito bites, take action and follow these tips:
Dump and drain containers filled with water at least once a week
Clean and scrub bird baths and pet water bowls weekly
Dump water from potted plant saucers
For more information on how you can help reduce the risk of WNV in your community, visit www.ocvector.org.
Mosquitos Dan Positivo al Virus del Nilo Occidental en Santa Ana
Los mosquitos con el virus del Nilo Occidental (WNV, por sus siglas en inglés) han sido descubierto en las siguientes ciudades del Condado de Orange:
Nuevas indicaciones de virus:
• Santa Ana
El virus ha sido confirmado en las siguientes ciudades:
• Anaheim
• Buena Park
• Cypress
• Fullerton
• Garden Grove
• Huntington Beach
• Irvine
• La Habra
• Los Alamitos
• Orange
• Seal Beach
• Westminster
Para obtener mas información sobre elvirus del Nilo Occidental, visite: www.ocvector.org/west-nile-virus
El control de mosquito es una responsabilidad compartida. Los residentes del Condado de Orange tienen que hacer su parte para controlar los mosquitos que se reproducen alrededor de sus propiedades y prevenir mordeduras.
La eliminación de las fuentes de reproducción de mosquitos es fundamental para prevenir la propagación del virus del Nilo Occidental.
Para prevenir las picaduras de mosquitos, tome medidas y sigue estas puntas:
• Tiré y vacié cualquier recipiente lleno de agua al menos una vez a la semana.
• Limpie y restriegue los baños para pájaros y los tazones de agua para mascotas semanalmente.
• Tire el agua de los platillos de plantas en macetas.
Visite www.ocvector.org para obtener más información sobre lo que pueda hacer para reducir el riesgo de WNV en su comunidad.