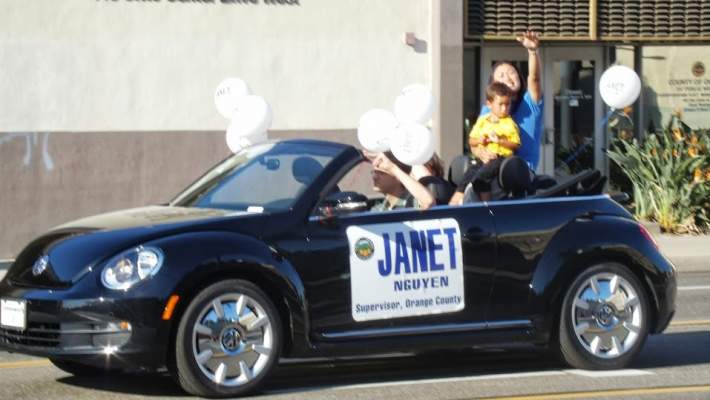 I try not to miss the annual Fiestas Patrias parade in Downtown Santa Ana not because it is a great parade but rather because it always presents me with the opportunity to take goofy pictures of our local politicians.
A couple years ago I caught career politician Janet Nguyen (who at the time was a Supervisor and is now a State Senator) dangling her unsecured toddler while sitting on the back seat of a convertible car (see the picture above).  If only I had been taking video!  She was screaming "Viva Mexico" at the time.  (I am sure her fellow Republicans would love to see that video today!).
The Fiestas Patrias parade is set for today, September 13, 2o15, at 4 pm. It takes place at Main and Civic Center and runs along the Civic Center.  You can find plenty of free parking if you get there early.  I usually take the bus from my home.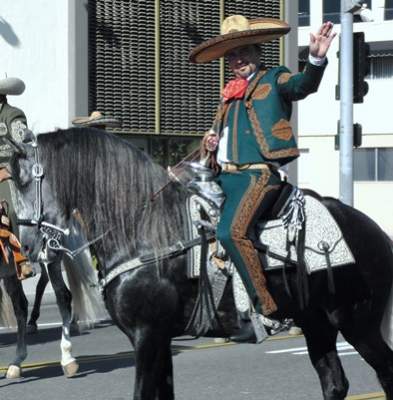 The parade features "floats" from various clubs representing the states of Mexico as well as plenty of vaqueros (cowboys) on beautiful horses.
You can also visit the booths set up along 4th Street for great food and trinkets from Latin America.
Here are a few pictures of our politicians in previous parades (I will be live blogging from the parade today via our Facebook page with plenty of new pictures of our preening elected officials):