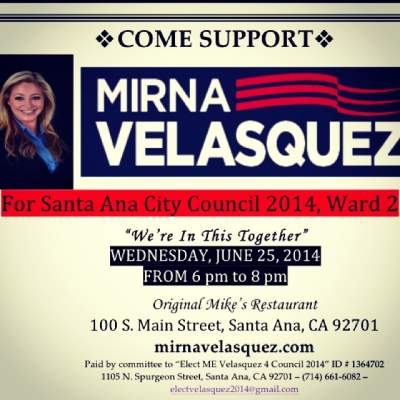 Mirna Velasquez, a candidate this year for Santa Ana's City Council, in Ward 2, is hosting a campaign event on Wednesday, June 25, 2013, from 6 to 8 pm, at Original Mike's, at 100 S. Main St., in Santa Ana.
Velasquez is challenging longtime Council incumbent Michele Martinez, who has admitted in the past to selling drugs when she was a teenager growing up in Santa Ana.  Martinez ran for the 69th Assembly District in 2012, coming in almost last with just 16% of the vote, according to Smart Voter.  Martinez spent over $200K for those results, according to the CA Secretary of State.  Click here to see which special interests donated to her campaign.
Here is Mirna's bio, from her website:
Born and raised in Santa Ana, she has lived in every single Ward that the City of Santa Ana has to offer: 1, 2, 3, 4, 5 and 6! Her natural blonde hair, big blue eyes and English proficiency conceals the fact that Spanish was her first language, yet explains why she is often times affectionately referred to as: "Blondie in the Hood" a.k.a. "Blondiehood".
Unmarried and pregnant at the age of 14 years old, she courageously gave birth to her only child and throughout the years she has provided for him as a single mother. Mirna struggled to rise to the top, working up to three (3) jobs at a time while putting herself through college.
When Mirna was fifteen (15) years old one of her first jobs was in a dental office. Working her way up the ranks over the years, she has become so knowledgeable and experienced in the dental field that she is now highly sought after as a dental business consultant. In that role, Mirna gives counsel about: management and practice; health and safety regulations; profitability and staffing, as well as compliance with all legal standards.
After earning her degree in Business at the University of Phoenix, Mirna started and is currently working on completing two (2) Master's Degrees: one in Education (K-12) and the other in Corporate Education.
Mirna was previously employed with The Advocate's Legal Center, Inc., and her Business Consulting services have since branched out into several other business forums, including but not limited to retail, restaurant, entertainment and corporate relocation services, advising on business needs such as growth, finance, supply and demand, and client services.
Mirna never had, nor will ever believed in, a "victims" mentality. Instead, she has demonstrated the ability to rise above adverse circumstances, and now enjoys a commendable level of success that is still on the rise today.
Mirna spent her life struggling to be victorious enough to get out of the City of Santa Ana and all the bad memories it held. Now, with the intention to "give back" she returns to the City (as a candidate for Ward 2); stronger, wiser, more experienced and more capable of making the changes needed for the residents, who have for the most part, given up hope for a better future.
Mirna also currently volunteers and is in partnership with WORD-UP MINISTRIES d.b.a The Advocate Radio program, which is currently looking for an operating location in the City of Santa Ana in order to help its residents with their spiritual and legal needs.
Mirna is against: police, political and judicial corruption; the unfair treatment of the helpless; and the continuing "fat" and "red tape" of City policies and procedures (or the lack thereof), that oppresses its residents, business owners, and others in need.
Mirna is for: free uninhibited enterprise in the business community; providing resources for a "hand up" not just another "hand out"; and the tools for spiritual growth needed to strengthen the residents of the City, so that they can overcome the odds and become "underdogs" in their own right, just like she did.