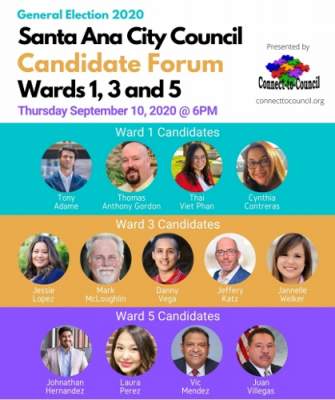 Connect-to-Council, a Santa Ana non-profit organization, will host an informational online forum to hear from and have questions answered by candidates running for the Santa Ana City Council.
The General Election will be held November 3, 2020 and the voting method will solely consist of mail-in ballots, due to the continued COVID-19 social distancing requirements.
The Santa Ana City Council Candidates forum is set for Thursday, September 10, 2020 at 6 p.m. and will include the candidates for the 1, 3 and 5 Ward positions on the Santa Ana City Council.
Streaming Live
The Santa Ana Mayoral Candidate Forum will be held one week later on Thursday, September 17 at 6 pm.Submit your questions here:
Spanish Survey – https://forms.gle/AZQ7ssZPZwVdQG9U6
English Survey – https://forms.gle/Q4fSzQrstyteNSLw5
Forum for mayoral candidates to occur the week after on September 17, see event here. Check the Connect-to-Council Facebook page for updates.