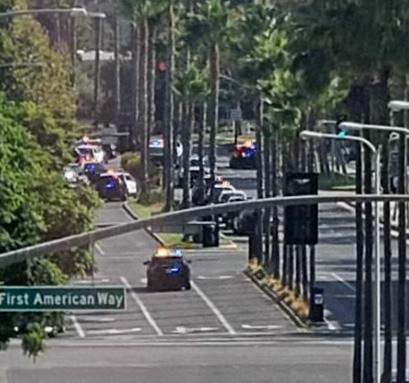 On Wednesday, September 2, 2020, at approximately 3:15 PM, SAPD Officers responded to the Essex Skyline at MacArthur Place luxury apartment high-rise building for multiple reports of shots fired and people down in need of medical aid. Upon arrival, officers located an unidentified African American adult male down in the parking structure suffering a gunshot wound to his upper torso. Officers also located an unidentified Hispanic adult male down in the lobby suffering gunshot wounds to his upper and lower body. During their initial response, officers responded to a 15th floor apartment and located the tenant, a 29-year old male, suffering a single grazing gunshot wound to the head and other blunt force trauma injuries. Officers rendered emergency medical aid and turned over the three men to Orange County Fire Authority paramedics who treated and transported them to local trauma centers.
The Essex Skyline at MacArthur Place is a complex of two high-rise buildings. Multiple teams of SAPD officers conducted operations to search for suspects and additional victims in both towers. After several hours, the commanding officer declared the scene secure and turned over the investigation to SAPD Homicide Section detectives who worked in conjunction with Robbery Unit detectives.
The preliminary field investigation determined that an armed robbery occurred during a marijuana transaction inside an apartment located on the 15th floor. During the attempted robbery, a physical altercation escalated into an exchange of gunshots. Detectives executed a search warrant, seizing marijuana and evidence of sales operations, a sum of money, and two firearms.
Two unidentified men were determined to be suspects in the case. Both remain in the custody of SAPD at a local trauma center pending identification and a review of the facts by the Orange County District Attorney's Office. Detectives are looking in to the possibility of this crime being related to other similar robberies, which have occurred at the apartment complex in the recent past. Anyone with information about this case(s) is encouraged to contact the Santa Ana Police Department Homicide Section at (714) 245-8390.