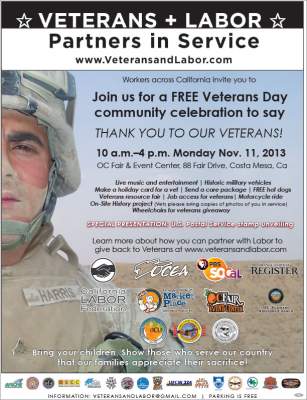 Veteran's Day is coming up on Monday, November 11.  This is a day we should all celebrate and in particular it is a day to thank those who served in our Armed Forces.
Here are the events going on throughout Orange County, in and around Santa Ana, plus a few special deals too:

Free admission to the Lyon Air Museum, in Santa Ana, for all Veterans and members of the active U.S. Military, on Monday, Nov. 11.  Click here for more info.
The Santa Ana Tea Party Patriots are hosting an event on Monday, November 11, 2013, at 5:30 pm, at the Green Parrot Villa, in Santa Ana, featuring well-known Constitutional expert Steve Jackson as their speaker.
Veterans Day Community Tribute Celebration, hosted by Orange County unions led by the Orange County Employees Association (OCEA).  On Monday, Nov. 11, from 10:00 am – 4:00 pm, at the OC Fair & Event Center, in Costa Mesa.  Click here for more info.
Anaheim – 2013 Veterans Day Ceremony at Downtown Community Center, at 250 E Center St., in Anaheim, on November 9, 2013, at 10:00 am.
Orange – Veterans Day Tribute at 100 N Atchinson St., in Orange on November 11, 2013, at 2:00 pm.
Irvine – National Veterans Day Run at Woodbridge Community Park, at 20 Lake Road, in Irvine on November 11, 2013, at 7:00 am.
Irvine – The City of Irvine is hosting a special ceremony on Monday, November 11 from 11 a.m.-12:30 p.m. in the formal garden area at Colonel Bill Barber Marine Corps Memorial Park
Yorba Linda – Veterans Day Ceremony at 4756 Valley View Avenue, in Yorba Linda, on November 11, 2013, at 2:00 pm.
Lake Forest – Veterans Day Program, at El Toro Memorial Park, at 25751 Trabuco Road, on November 11, 2013, at 11:00 am.
Newport Beach – Medal of Honor Winner Gary Beikirch to speak at Liberty Baptist Church, at Liberty Baptist Church, at 1000 Bison Ave, in Newport Beach, on November 10, 2013, at 9:00 am.
Huntington Beach – Veterans Day Car Show, at City of Huntington Beach Parking Lot: Beach Blvd, Huntington Beach, on November 11, 2013, at 8:00 am.
Placentia – Veterans Day Observance Ceremony, at Placentia Civic Center Plaza-401 E. Chapman Ave., in Placentia, on Monday, November 11, at 10:00 am.
Buena Park – Fallen Warriors Memorial & Veterans "Honor Walk" at 8150 Knott Ave, in Buena Park, on November 10, 2013, at 2:30 pm.
Brea – Veterans Day Ceremony, at Brea Civic & Cultural Center – 1 Civic Center Circle, in Brea, on November 11, 2013, at 10:30am.
La Habra – La Habra Lions Club Veterans Day, at the La Habra Community Center, at 101 W La Habra Blvd., on November 11, 2013, at 9 am.
Fullerton – Veteran's day Ceremony and Parade, at Downtown Plaza, located on Wilshire Ave, East of Harbor Blvd and adjacent to the Fullerton Museum, on November 11, 2013, at 10:30 am. U.S. Rep. Loretta Sanchez will be marching in this parade.
The Richard Nixon Presidential Library, in Yorba Linda, is offering free admission on Monday, Nov. 11, to all who visit.  There are special events planned as well.  The library is located at 18001 Yorba Linda Blvd.

Farrell's Offer's A Free Sundae To Military Personnel This Weekend

– Thanks to our Vets! Farrell's Ice Cream Palrour Restaurants wants to thank every Veteran and current military man and women by treating them to a very special (and completely free) "All American Red, White and Blue Thank You Sundae" all Veterans Day weekend. This delicious sundae includes two scoops of vanilla ice cream, blueberry compote, strawberry topping, whipped cream, a cherry, and, of course, an American flag proudly waving atop the whole thing. This sundae is so patriotic you're going to want to stand up and salute it.
Military Mates – It's Turn for Outback to Serve You – Outback Steakhouse will honor our heroes with a free Bloomin' Onion® and a beverage on November 11 in celebration of Veterans Day. And, because Veterans Day is not long enough to fully express the nation's gratitude, Outback is honoring all service members with 10% off their meals Nov. 12 through Dec. 31. These offers are open to all active and former military service members with a valid ID.
Veterans Day Offers at Olive Garden & Red Lobster Recognize Service Members – Olive Garden and Red Lobster are honoring veterans and current service members this Veterans Day with special offers at all locations across the country starting on Monday, Nov. 11, with proof of military service.
This Veterans Day, Chili's has Service Members' Backs In More Ways Than One – The best way to anyone's heart is through their stomach, and every year, Chili's® Grill & Bar honors veterans and active military personnel with free entrees as a delicious and filling token of thanks. But this year, the brand is taking their appreciation one step further and making it easy for guests to pay back the injured servicemen and women who have done so much for the country. For the first time in Chili's history, participating restaurants nationwide will host a 'Give Back Event' Sunday, Nov. 10 to raise money for Wounded Warrior Project® (WWP), a nonprofit, nonpartisan organization whose mission is to honor and empower Wounded Warriors.
Veteran's Day Guest Chef Dinner at Nieuport 17 – US Foods and Nieuport 17 Restaurant are pleased to announce their Inaugural Veteran's Day Guest Chef Pairing Dinner to benefit Veterans First of OC. The event will be held on Monday November 11, 2013 (Veteran's Day).
Free meal for Veterans on Nov. 11 at McCormick & Schmick's, located at 321 West Katella Ave., in Anaheim. Choose from selected entrees including: Salmon Rigatoni, Tender Beef Medallions, and Buttermilk Fried Shrimp.
Free doughnut and small coffee at Krispy Kreme (select locations) – must present military I.D. or wear your uniform.
Free lunch at Sizzlers – for active duty and retired members of the U.S. Military, on Monday, Nov. 11, through 4 pm.  Choose from 6 oz. steak, Malibu Chicken, or a half-dozen Fried Shrimp.
Free parking at Orange County Parks – Free parking at 9 regional parks for veterans, active duty personnel, reservists and their families, from 9 am to 2:30 pm.
Free combo at On the Border Mexican Grill and Cantina at locations in Aliso Viejo and in Irvine.
Free bagel from Einstein Bros. Bagels and Noah's New York Bagels.  They are both offering a free bagel and shmear or any other topping to all active, inactive and military personnel, on Monday, Nov. 11, from 8:30 am to 5 pm.