(Santa Ana, CA) – The OC Health Care Agency urges individuals who do not have health insurance and are not fully vaccinated or boosted against COVID-19 to get their shot before the federal Uninsured Program stops accepting vaccination claims on April 5, 2022.
Currently, the U.S. Department of Health and Human Services (HHS) provides claims reimbursement to health care providers generally at Medicare rates for administering COVID-19 vaccines to uninsured individuals, as well as providing COVID-19 testing and treatment. Due to the lack of funding, vaccination claims for uninsured individuals will no longer be accepted on April 5, 2022 at 11:59 p.m. ET. Claims for testing and treatment will not be accepted on March 22, 2022 at 11:59 p.m. ET.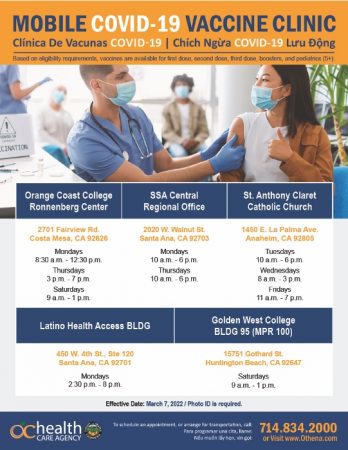 "Vaccination has been critical to reducing severe illness and hospitalization due to COVID-19. We know that because our data continues to show that the majority of people who are hospitalized due to COVID-19 are unvaccinated," says Dr. Clayton Chau, OC Health Care Agency Director. "Up until now, vaccines have been available to everyone at no cost regardless of their health coverage due to funding from the federal government. After the cutoff time on April 5, coverage for vaccinations for anyone who is uninsured (March 22 for tests and treatment services) would depend on the availability of funds by the provider they are receiving from (such as the healthcare system or hospital). We encourage everyone who is not yet vaccinated, including those who are uninsured, to get vaccinated as soon as possible."
After March 22 (for testing), or April 5 (for vaccines), uninsured inviduals seeking a COVID-19 vaccine or test are advised to visit www.ochealthinfo.com/covid for more information on services available through the OC Health Care Agency.
COVID-19 vaccines are widely available throughout Orange County for walk-in, same day, and future appointments. Eligible individuals age 5 and older can visit their local pharmacy or healthcare provider, or search for vaccination appointments and locations online at Vaccines.gov, MyTurn.ca.gov, or Othena.com.
For more information on where to get vaccinated in Orange County, click here: Find a COVID-19 Vaccine.
For more information on status of the Uninsured Program, click here: COVID-19 Claims Reimbursement to Health Care Providers and Facilities for Testing, Treatment, and Vaccine Administration for the Uninsured