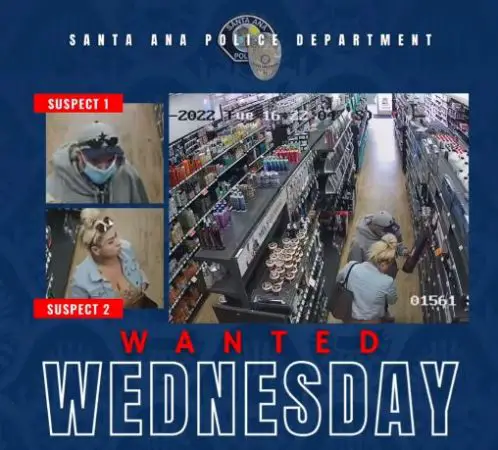 On March 15, 2022, the above pictured suspects entered a local beauty supply store and selected numerous items off the shelves. They placed the items in a basket and approximately 45 minutes later, both suspects exited the store and entered a white Toyota Corolla. One of the suspects brandished a pepper spray and pointed it at the victim and shoved the victim as he exited the store.
Suspect #1 Male, Hispanic, 5'3"-5'5" tall, 180-200 lbs. and 28-35 years old
Suspect #2 Female, Hispanic, 5'0"-5'2" tall, 160-180 lbs., 23-30 years old, dyed blond hair, multiple visible tattoos on her right thigh, right shin, left chest, both hands and right side of neck.
Location: 1600 block of W. 17th Street
Anyone with information on the identity or whereabouts of the wanted suspects is asked to please contact Detective Greaver at DGreaver@santa-ana.org or (714) 245-8362