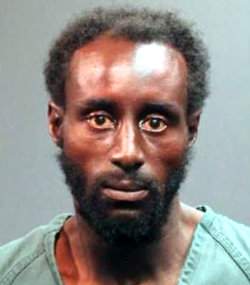 The SAPD arrested Demarrea Chante Barnes, 29, in Anaheim today as a suspect in the horrific beating of an 83-year-old man, Tuyen Nguyen, in Santa Ana at about 6:10 a.m. in the 5000 block of West Edinger Ave., in Santa Ana, according to ABC News.
Barnes is believed he is a transient.
Nguyen was on his daily walk to get a newspaper and coffee at a Santa Ana restaurant when he was attacked with no warning in the parking lot. Fortunately the attack was caught on surveillance video.
Nguyen was taken to a local hospital and was in critical condition with a brain hemorrhage and a broken eye socket.
The victim was transported to a hospital and was last listed in critical condition. He suffered a brain hemorrhage and broken eye socket.
Barnes has been charged with assault with a deadly weapon other than a firearm and assault with a deadly weapon with great bodily injury.  He is now in jail.
Nguyen's daughter, Julie Nguyen, told the station her father knew his attacker from his frequent walks to the mall and has given him food, according to the O.C. Register.