The OCTA's union bus maintenance employees remain on strike – which has been a disaster for Orange County's working poor. Many residents have not been able to get to work as a result of the lack of bus service. Those workers and their families face an uncertain financial future as their inability to get to work will result in no pay and some of them may even get fired.
Public transit is critical for people to reach jobs, education, healthcare, grocery shopping and elsewhere. Approximately 85% of riders use OC Bus as their primary means of transportation and more than half of riders have a total household income of less than $50,000.
The OCTA offered the striking union workers a top wage of $43.19 an hour for journeyman mechanics – equivalent to nearly $90,000 per year. For comparisons' sake the State of California's employment website shows that Automotive Service Technicians and Mechanics can expect to earn an hourly pay of $26.92 with the top salaries coming in at $30.62 per hour.
The OCTA also offered a 14.25% wage increase over the three years. Compensation costs (which generally include salaries, raises, and benefits) are expected to jump this year to 3.9%, according to Investopedia. This is the highest level reported since 2008. Most workers will be lucky to get that 3.9% wage increase while the OCTA is offering a whopping 14.25% increase to their greedy striking bus maintenance workers!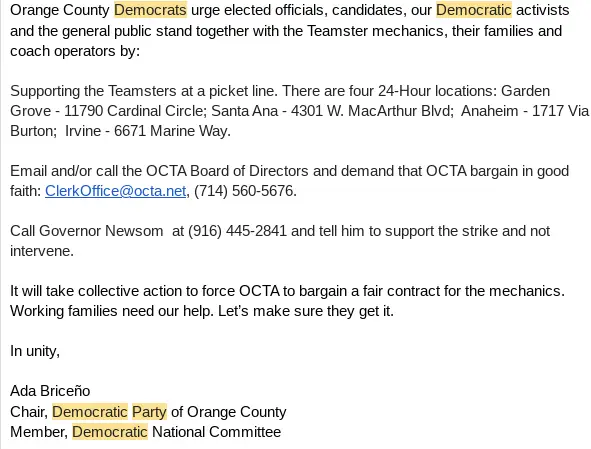 You might expect the Orange County Democratic Party to support the working poor who depend on OC buses to get to work and school. However that is not the case! Instead the OC Democratic Party is urging elected officials, their candidates, Democratic activists and the general public to stand together with the Teamster mechanics, their families and coach operators by joining the picket lines!
Let's be clear about this – the striking OCTA bus maintenance workers CANNOT expect to make the kind of money they have already been offered at any private company in Orange County. The top salaries for such workers come in at about $30 an hour while the OCTA has already offered over $43 an hour.
The election is on November 8. As you turn in your ballots remember that the OC Democratic Party does not care about working people one bit. They only care about overpaid greedy union workers!