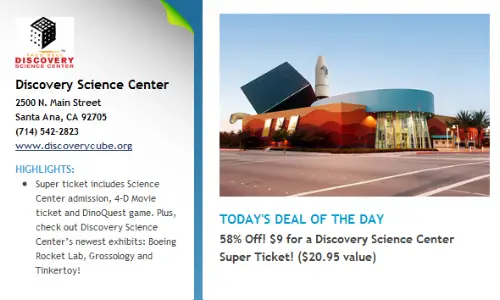 The O.C. Register is offering a great discount, today only, on Super Tickets to the Discovery Science Center, in Santa Ana.  If you buy today, you can get 58% off a Discovery Science Center Super Ticket! ($20.95 value).  Your cost will be only $9!  Click here to buy your discounted ticket right away.
Super ticket includes Science Center admission, 4-D Movie ticket and DinoQuest game. Plus, check out Discovery Science Center's newest exhibits: Boeing Rocket Lab, Grossology and Tinkertoy!
Here are a few more details:
It is important to go to space at least once to make sure all those world maps aren't lying. It is also important to breathe oxygen. Since there isn't enough oxygen in space for all of us, do the next best thing and check out the Discovery Science Center, a 59,000-square-foot learning facility designed to spark children's natural curiosity and save them from the perils of absolute zero.
Since opening in 1998 the Discovery Science Center has become Orange County's largest nonprofit educational resource and serves over 450,000 guests each year. All of these guests emerge alive and well from the Science Center's exhibits, including Science of Hockey, Discovery Stadium, Techno Arts, Air & Space, Perception, Dynamic Earth, Quake Zone, KidStation and Dino Quest. Why float in zero gravity wearing a Michelin Man suit when you can just go to the Discovery Science Center? It'll use way less gas than going into space — a great way to show planetary love.
THE FINE PRINT
Valid for adult or child (1 person per ticket)
Includes DSC admission, 4-D movie, DinoQuest
Expiration: September 30, 2010
No cash value
Not valid with any other offer
Limit 1 per guest, per visit
Valid during normal operating hours
Movie tickets are subject to seating availability
Coupon is not upgradable
Tax and Gratuity Included
Click here to buy your discounted Super Tickets!