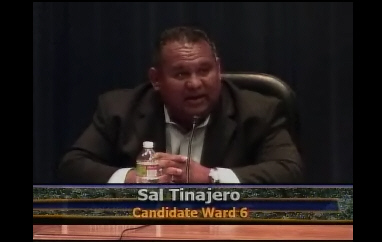 Santa Ana Mayor Pro Tem Sal Tinajero Press Release
FOR IMMEDIATE RELEASE: October 14, 2014
Contact: Santa Ana Mayor Pro Tem Sal Tinajero, 714-­913-­3515
Sal Tinajero Distances Himself From The Release Of The Miguel Pulido City Investigation Report
Santa Ana ­ Mayor Pro­Tem Sal Tinajero was surprised and disappointed when he found that the investigation report on Mayor Miguel Pulido had been leaked to the media. Tinajero stated, "I have always respected the opinion of the Orange County District Attorney's office. From the very beginning I informed the public that I would not release the report if I found that doing so could potentially damage the ongoing investigation."
It was made public that the office of the Orange County District Attorney urged the city of Santa Ana not to release the report.
According to Tinajero, "The DA's office explained that releasing the report could hurt the investigation; that was enough for me to make the decision not to release the report."
Tinajero feared that someone might leak the report to the media before a city decision was made. That is why back in September, Sal Tinajero sent an email to Santa Ana City Attorney Sonia Carvalho, asking her not to release the investigative report to him.
Tinajero further stated, "I wanted no part of the report because the agency that handles these matters is doing their investigation and we should not get in the way. I believe it is unfortunate, when individuals put their political ambitions in front of our justice system."
###
Paid for by the Committee to Elect Sal Tinajero, 2014 ­ FPPC # 1290489