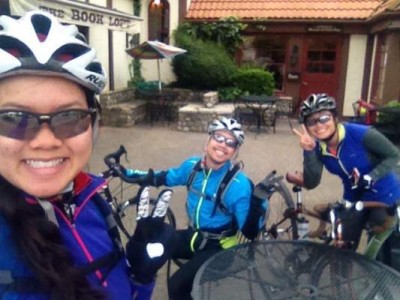 THREE YOUNG ADULTS FROM ORANGE COUNTY NEAR COMPLETION OF 4,000 MILE BICYCLE TREK CROSS-COUNTRY FOR CHARITY
THEIR JOURNEY ENDS IN YORKTOWN, VIRGINIA THIS WEDNESDAY
SURPRISE PARTY PLANNED IN ORANGE COUNTY SATURDAY
WHO: Healthnuts & Handlebars bicycle trekking team
Anthony Bui, Aileen Bui, and Hannah Pham, all recent college graduates with plans to enroll in medical and pharmacy school.
WHAT: After bike riding more than 4,000 miles across America, the trio will return home to Orange County to a surprise gathering of their friends, families and sponsors across 11 states raising awareness and more than $12,000 for the Kevin Armstrong MD Memorial Sports Foundation which benefits students in the Santa Ana Unified School District.
WHY: The Healthnuts & Handlebars group wanted to give back to their community during the gap year after college graduation and before graduate school commenced. They elected to experience America on an intimate level by riding bicycles and to dedicate this ride to raising funds for a local charity that serves their home community.
Anthony Bui will depart next month for medical school at the University of Wisconsin, and his sister Aileen Bui will depart for medical school at Brown University in Rhode Island. Hannah Pham will be completing her preparations and applications to attend pharmacy school. To read more about Anthony and Aileen's story growing up in a low-income single parent household and using their challenges as stepping stones for success, read their personal story below.
WHERE: The home of Tien Bui (Anthony and Aileen's mom)
3510 S. Towner St.
Santa Ana, CA 92707
(Near MacArthur and Bristol)
WHEN: 5:00 p.m.
Saturday, July 26, 2014 (If you are not able to cover the surprise party, interviews can be arranged beginning Saturday, July 26 – August 1, 2014)
CONTACT: Deidra Powell, Chief Communications Officer
Deidra.powell@sausd.us or (714) 673-4995
Susie Brandt, Press Coordinator brandtedu@gmail.com or 949 291 7495
Additional Background Information:
Three recent college grads, who attended k-12 in Southern California, have completed a grueling trek of more than 4,000 miles across America to raise awareness and funds for the Kevin Armstrong MD Memorial Sports Foundation which benefits low-income students in the Santa Ana Unified School District. They successfully bicycled across the TransAmerica Trail from Astoria, OR to Yorktown, VA in just under three months.
Two of the three, Anthony Bui, and his sister Aileen, attended schools in Santa Ana while the third, Hannah Pham attended schools in Fountain Valley — all districts in Orange County, CA. The threesome was dubbed Healthnuts & Handlebars.
Starting on May 3, they first dipped their rear wheels in the Pacific Ocean and headed into torrential spring rains and the Cascade Mountains. With a few beginners' disasters, including a bruising crash off a slick roadside shoulder, the team of trekkers found their rhythm and conquered steep mountains, sleet, snow, headwinds, heat and wide-bodied trucks to complete their goal by reaching Yorktown, VA scheduled for July 23rd, where they plan on a ceremonial dip of their front wheels in the Atlantic Ocean.
In all, the adventurers traveled through ten states.
Climbing mountains may have seemed like the biggest challenge, but through their ride, the Healthnuts found the heat, headwinds and monotony of the prairie states challenged their commitment the most. Despite the elevations of crossing the Cascade and Rocky Mountains, the steep climbs along with more intense hot weather proved the Appalachian Mountains were a greater physical challenge.
Initially, the group had a goal of raising $12,000 – approximately $1 a mile for the cross-country trek. By their finish, they had raised nearly $13,000 for the Foundation, which provides health services, equipment and sports opportunities for children in need in the Santa Ana Unified School District.
Along the way, the trio met with cycling supporters across the country. They tapped into the "Warm Showers" network along the TransAmerica Trail for places to sleep and other travel support. Sometimes, they "camped" in churches, bicycle shops and fire stations making friends and contacts as they traveled.
Before deciding to tackle the monumental physical challenge, none of them were serious cyclists. With the help of Scott Savin, professional cycling trainer, they began a six-month program to build skills and endurance for the ride. They even competed on their sturdy touring bicycles in a stage of the Tour de California race riding against professional racers on sleeked-down light racing bikes. Their training included climbing serious steep mountain grades and managing breakneck speeds on the descent.
All three of the riders plan careers in health services. The ride was planned as a meaningful project before moving forward with their graduate school plans. Both the Bui siblings will be attending medical school in August, while Pham will be attending pharmacy school. The trio is dedicated to providing improved health services to those in need, especially people with financial challenges.
Anthony Bui attended schools in Santa and then graduated from UCLA. Aileen Bui also attended schools in Santa Ana and graduated from Stanford University. They grew up, along with a younger brother, in a single parent family facing severe financial challenges, which affected their own lives and ability to participate in activities. Pham attended schools in Fountain Valley and just graduated from California State University Long Beach. Like the Bui siblings, she is focused on a career serving communities in need.
The team tackled the ride to support the Kevin Armstrong MD Memorial 'Sports Foundation because of the foundation's efforts to support sports activities for children in need in Santa Ana. All three Healthnuts support sports activities as positive programs to fight childhood obesity and improve lifestyles.
The Foundation was begun to honor Kevin Armstrong, a former Santa Ana outstanding athlete and student who was raised in a single-parent family facing many financial difficulties. He attended Princeton University and UCLA Medical School before joining the UCI Medical Center as an orthopedic surgeon and professor.
Armstrong was a much-admired doctor who understood the value of sports and the mind of athletes who wanted to continue participation even after injuries. He wanted to give back to his community where so many children needed support as he had, so he volunteered his time as a team physician for Santa Ana high school sports events. Tragically, he died suddenly in 2005 from a rare and undisclosed heart condition.
His twin sister, Karen Armstrong, along with his colleagues and high school friends wanted to carry on his expressed desire to give back to kids in Santa Ana, and formed the Foundation in his name.
Since its inception, the Foundation has assisted approximately 3000 children in Santa Ana through health screenings, and its popular RunStrong program where intermediate students participate in 5K and 10K races. The Foundation supports the students with training, running shoes, transportation and entrance fees for the various races.
Now that the Healthnuts have reached their physical and financial goals, they will be driving back cross-country with a scheduled arrival date at home in Orange County, CA on July 26th. Aileen Bui leaves in about a week to attend medical school at Brown University, and Anthony Bui leaves shortly after to attend medical school at the University of Wisconsin. Pham will be preparing to attend pharmacy school.
The trio has tracked their journey through their blog at healthnutsandhandlebars.wordpress.com . Check out their photos and captions. To learn more about the Kevin Armstrong MD Memorial 'Sports Foundation, please visit armstrongmdfoundation.org.
###