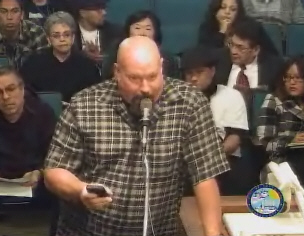 Update: The Santa Ana City Council voted unanimously this week to approve the proposed changes to the Santa Ana Ward Maps.  Past mayoral candidate Thomas Gordon is now in Ward 4, which is represented by Councilman David Benavides.  Gordon will not be able to run against Councilman Sal Tinajero in Ward 6 – ever.
The Santa Ana City Council at its regularly scheduled City Council Meeting, held December 19, 2011, approved, by unanimous consent, the first reading of an ordinance that will change the City Council Ward Boundaries.  But while the City Council could, and should, have settled the matter that night, they instead opted to put the changes off until a second reading of the ordinance, which is set for Tuesday, January 17th at 6 p.m. in the Council Chambers.
I am hearing that the only person who submitted new ward map proposals was Thomas Gordon, who currently resides in Ward 6.  Under the proposed changes he would be shifted over to Ward 4.  Gordon tried to run against Ward 6 Councilman Sal Tinajero back in 2010, but Gordon's nomination signatures fell short.  Apparently he wants to run again when Tinajero's seat comes up again in 2014.
Gordon's proposed changes would shift as many as 6,000 voters around while the Council proposal would only move about 300 voters, from what I have been told.  That is par for the course for Gordon, who has become perhaps the most loud-mouthed Council gadfly.
Gordon previously ran for Mayor of Santa Ana back in 2006.  He got 24.5% of the vote, according to Smart Voter.  Stanley Fiala got 6.7% of the vote in that election and Mayor Miguel Pulido easily won with 68.8% of the vote.
Gordon works for the Los Angeles Unified School District, where he is an asbestos inspector.  He maintains a second home in Denver, CO, with his longtime girlfriend.  He often flies out there on holidays and he has told me that he flies his dog out there too, ostensibly to enjoy the dozen or so dog parks in the Denver area.  Gordon has opposed a proposal to build a dog park here in Santa Ana.
Gordon is an elected member of the Republican Party of Orange County's Central Committee.  For some reason he got involved in the carpetbagging supervisorial campaign of Anaheim Council Member Harry Sidhu.  Sidhu lost that race to Supervisor Shawn Nelson, who was named this week to be the new Vice Chair of the O.C. Board of Supervisors.  Sidhu also ran as a carpetbagger for the 69th Assembly District's GOP Central Committee delegation.  I believe he lost that race too.
According to the City's website, "The City Council directed the Clerk of the Council to educate members of the community about the process taken to develop the proposed boundaries. If interested, please contact the Clerk of the Council Office at (714) 647-6520 thru Friday, January 13, 2012, to schedule a session during regular business hours. Attached for review is a map with the proposed and current boundary lines."