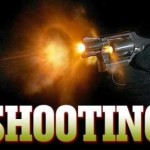 A male was parked near the corner of W. Richland and S. Raitt Streets, in Santa Ana, early this morning, just past midnight, when two male suspects walked up to him and a confrontation occurred where the suspects asked about gang affiliation and then proceed to assault the victim, according to SAPD Case number 17-5725.
The suspects fled in a vehicle and the victim followed. One of the suspects exited their car and shot at the victim striking the car only.
The police did not release the name of the victim nor a description of the suspects.
This incident occurred northeast of Jerome Park and Monte Vista Elementary School in Santa Ana's Ward 4, which is represented by Councilman David Benavides.