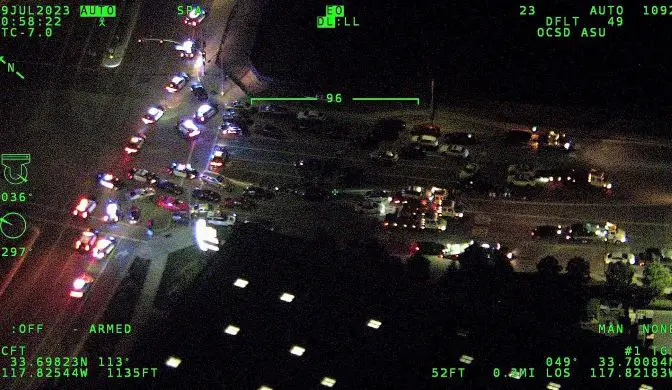 On Friday, July 28, 2023, at approximately 11:40 p.m., Tustin Police Department dispatch received a call regarding street racers speeding up and down Tustin Ranch Road. Several other callers indicated there was an 'intersection take over' at Park Avenue and Warner Avenue.
All available on-duty Tustin Police personnel quicky responded to the area along with several Irvine Police Department officers. Upon arrival, officers located approximately 300 cars parked on the roadway and in the intersection. Vehicles were actively doing burnouts in the intersection while spectators observed, shined lasers, and set off fireworks.
Following a coordinated response, led by Tustin Police, the entire area was secured. Officers towed 51 vehicles from the scene and issued 20 citations for a variety of California Vehicle Code violations.
During this dangerous event, a spectator was struck by a dark sedan doing burnouts in the intersection.
The victim was transported to a local hospital in stable condition. The victim sustained several broken bones and is expected to recover.
Anyone with information about the participants in this street takeover is urged to contact
Detective Yuhas at (714) 573-3218 or jyuhas@tustinca.org.