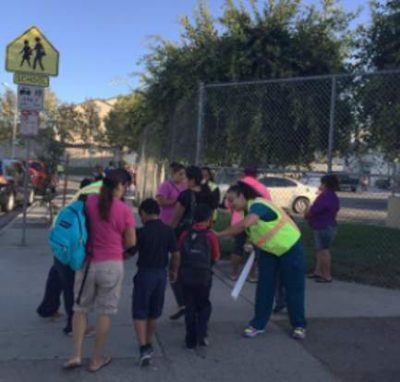 Fitness and Safety Promoted at Walk-to-School Day – October 5, 2016
Kennedy Elementary School
Join the Santa Ana Unified School District, the Orange County Health Care Agency, the Santa Ana School Police and Santa Ana Police Department as they participate in the Annual International Walk to School Day. Students, parents, and community members will take part in this global event to bring awareness to the importance of practicing safe walking, biking, traffic skills, and physical activity on October 5, 2016.
Walk to School day will be held throughout the city of Santa Ana; however, a program acknowledging the district's participation will be held at Kennedy Elementary School at 8:00 a.m.
Who: Superintendent Stefanie Phillips, Ed.D., and members of the SAUSD Board of Education will walk with students and parents to Kennedy Elementary School beginning at 7:30 a.m. at McFadden Ave. and Standard Ave.
When: Wednesday, October 5, 2016 at McFadden Ave. and Standard Ave. Walk commences at 7:30 a.m. to Kennedy Elementary School.
Where: Kennedy Elementary School
1300 E. McFadden Ave.
Santa Ana, CA 92705