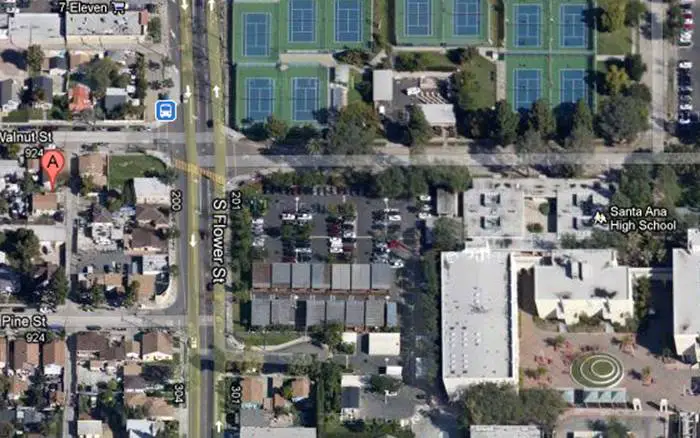 On Friday, April 27, 2012, at approximately 3:20 p.m. a Santa Ana High School student was the victim of a shooting that took place off campus after school last Friday, at 914 W. Walnut Street, which is very close to the campus as you can see in the picture above.
The "shooting took place about 3 p.m. when a 10th-grader and a friend were walking home from Santa Ana High School westbound on Walnut Street near Flower Street, Santa Ana police Cpl. Anthony Bertagna said," according to the O.C. Register.
After the suspect fired a single shot, the victim ran, collapsing in an alley behind Walnut Street, the school's principal, Julie Infante, said, according to NBC News.  The shooter — described as a Latino male aged 16 to 17 and wearing a black hooded sweatshirt — fired a single shot before running off, police said, according to Fox News.
The Santa Ana Police Department, School Police and SAHS Administration responded immediately to the scene, and the young man was transported to the hospital where he remains in critical condition. No other students or staff members were injured in the incident, and the SAUSD is providing counseling services to students.
The investigation is ongoing, and if you have any information that would be helpful, please contact the SAPD at (714) 245-8648 or 1-855-TIP-OCCS.
Here is the SAUSD's statement about their response to this incident, in Spanish:
El viernes 27 de abril del 2012, como a las 3:20 p.m. un alumno de la Escuela Preparatoria Santa Ana fue víctima de un tiroteo que tuvo lugar fuera de la escuela, después del horario de clases el viernes pasado.
El Departamento de Policía de Santa Ana, la Policía Escolar y la Administración de la Escuela Preparatoria Santa Ana respondieron de inmediato al lugar de los hechos, y el joven fue transportado al hospital, donde permanece en condición crítica. Ningún otro alumno o miembro del personal resultó lesionado debido al incidente, y estamos brindando servicios de consejería a los alumnos.
Continúa la investigación, y si tiene cualquier información que podría ser de utilidad, tenga la bondad de llamar a la Policía de Santa Ana al (714) 245-8648 o a 1-855-TIP-OCCS.
###