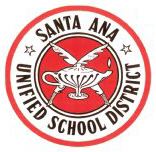 SANTA ANA UNIFIED NAMED TO 8TH ANNUAL AP DISTRICT HONOR ROLL
Santa Ana Unified has been named to the 8th Annual AP District Honor Roll, which recognizes school districts from the United States and Canada committed to increasing access to AP for underrepresented students while simultaneously maintaining or increasing the percentage of students earning AP Exam scores of 3 or higher.
Of the 447 districts named, 34 are in California.
Santa Ana is joined by Garden Grove, Placentia-Yorba Linda, and Tustin as the only 4 school districts in Orange County to be named to this honor.
Santa Ana Unified is also 1 of 3 districts statewide that have received this award multiple years while working with an AP student population of 30% or more underrepresented minority students and 30% or more low-income students.
Not only does this award reflect improved student achievement, it also reflects the hard work Advanced Placement teachers, High School counselors and administrators have done in the past few years to increase access and success in these rigorous courses.
AP District Honor Roll Criteria
Inclusion on the 8th Annual AP District Honor Roll is based on the examination of three years of AP data, from 2015 to 2017, for the following criteria:
Increased participation/access to AP by at least 4% in large districts, at least 6% in medium districts, and at least 11% in small districts.
Increased or maintained percentage of American Indian/Alaska Native, Black/African American, Hispanic/Latino, and Native Hawaiian/Other Pacific Islander students taking exams and increased or maintained the percentage of American Indian/Alaska Native, Black/African American, Hispanic/Latino, and Native Hawaiian/Other Pacific Islander students scoring 3+ on at least one AP Exam; and
Improved performance levels when comparing the percentage of students in 2017 scoring a 3 or higher than those in 2015, unless the district has already attained a performance level at which more than 70% of its AP students are scoring a 3 or higher.
AP is a rigorous academic program built on the commitment, passion, and hard work of students and educators from both secondary schools and higher education. Taking AP classes benefits students in a number of ways:
Favorably Impacts College Admission
Students who take AP courses send a signal to colleges that they're serious about their education and that they're willing to challenge themselves with rigorous course work.
85% of selective colleges and universities report that a student's AP experience favorably impacts admission decisions.
Offers Financial Benefits
Students who take five years or more to graduate can spend $21,500 for each additional year in college, to cover tuition, fees, living expenses, transportation and other costs.
Research shows that students who take AP courses and exams are much more likely than their peers to complete a college degree on time.
Builds Skills and Confidence
Students learn essential time management and study skills needed for college and career success.
Students dig deeper into subjects that interest them, and learn to tap their creativity and their problem-solving skills to address course challenges.