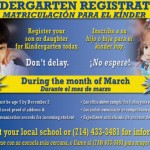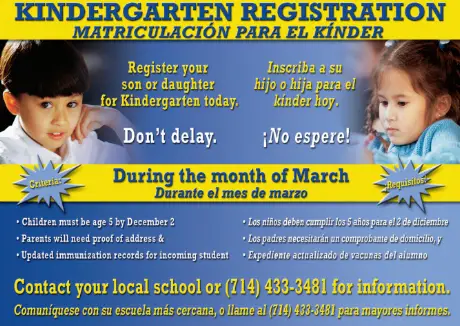 March is Kindergarten Registration Month
SAUSD Encourages Parents to Get a Jump-Start on Kindergarten Registration During March
SANTA ANA, CA — March 2, 2011 – Santa Ana Unified School District (SAUSD) elementary schools will host open registration for incoming kindergarteners during the entire month of March. Parents with appropriate age children are encouraged to take advantage of this timeframe to visit their local school to pick up registration packets and to make appointments with principals to discuss any questions they may have about school enrollment.
Parents or legal guardians may sign up their children who are or will be age 5 by December 2, 2011, for the upcoming school year. Required documents include proof of residency and the child's updated immunization records. Any parents with questions may call their local school or 714-433-3481 to get help in identifying which school their child can attend.
SAUSD has 36 elementary schools throughout the Santa Ana community. Visit http://www.sausd.us/ for a list of elementary schools; contact us at 714-558-5555, or pioinfo@sausd.us.
###