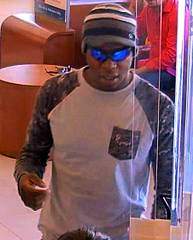 Santa Ana Police Department
Advisory: SAPD Robbery Detectives Request Public Assistance in Identifying Suspect in Bank Robbery
Location: Wells Fargo Bank 3925 South Bristol Street
Suspect Description: Male, Black, 25-31 years old, 5'7", wearing a grey beanie and grey sweat pants
Details: On November 5, 2014 at 12:07pm the suspect entered the Wells Fargo Bank at 3925 South Bristol Street. Once inside the suspect handed a note to a teller demanding money from her cash drawer. The teller complied with the suspect's demand and gave him an undetermined amount of US currency from her cash drawer. The suspect fled the bank on foot.
Anyone with information as to the identity of the suspect please contact SAPD Robbery Detective Art Castorena at 714-245-8422 or Orange County Crime Stoppers at 1-855-TIP-OCCS.
For full details, view this message on the web.
###