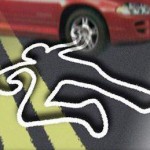 Police were investigating how an unidentified man became injured, after he was found on a Santa Ana street at around 9:30 p.m. on Friday night at  15th and Bush streets, according to the O.C. Register.
SAPD police officers responded to the scene after receiving a phone call about a possible hit-and-run traffic incident involving a pedestrian, according to the SAPD.
The man was breathing but was unconscious. He ended up being taken to a local hospital by an ambulance. The police did not identify him nor his age or city of residence.
The police are still not sure if the man was struck by a car or was tossed out of a car. No suspects have been identified.