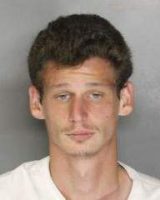 Advisory: SAPD Detectives Asking For Media and Public's Assistance In Locating Wanted Robbery Suspect
 – 3rd UPDATE –
 
Wanted Suspect: Matthew Vinnie Vuyna Salazar (21) LKA –Moreno Valley, CA
After doing news stories on this case SAPD Detectives received several tips as to the identity of the suspect in this case.  Additionally Detectives received information from a Los Angeles County Sheriff's Department Crime Analyst that provided them with the identity of the suspect.
Based on the information obtained during their investigation Detectives were able to obtain an arrest warrant for suspect Salazar.  Detectives have information that Salazar drifts from location to location throughout Riverside, Orange and Los Angeles Counties and believe the suspect knows that he is wanted by police.
Detectives continue to believe there may be additional victims in Santa Ana and throughout the Southern California area involving suspect Salazar.  Anyone with information on the suspect or vehicle, please call SAPD Robbery Unit Det. Cpl. A. Silva at (714) 245-8545, Det. Garcia at (714) 245-8408 or OC Crime Stoppers at 1-855-TIP-OCCS.
Warrant Issued:  $100,000
 
Charges: PC 211-Robbery, PC 212.5 (A) Transportation Robberies, PC 530.5 Unauthorized Use of ID 
– 2nd UPDATE – 
SAPD Detectives have identified the type of vehicle driven by the suspect at the time of the incident. The vehicle is described as a 2015-16 white Chrysler 200 with rear collision damage. The new pictures provided of the alleged suspect are from surveillance video at a Best Buy in the City of Yorba Linda.
KTLA5: http://ktla.com/2016/08/11/santa-ana-man-caught-on-camera-robbing-73-year-old-woman-in-cvs-parking-lot-police-investigating/
ABC7: http://abc7.com/news/video-elderly-woman-dragged-during-oc-purse-snatching/1466731/ 
CBS2: http://losangeles.cbslocal.com/2016/08/11/police-release-picture-video-of-suspect-in-attack-on-elderly-woman/ 
– 1st UPDATE –
Detectives following up on this investigation have learned that this suspect has used the victim's credit cards at several locations. The pictures provided are of the alleged suspect using the victim's credit card at Kohl's in the City of Yorba Linda. Detectives are still requesting the public's assistance in identifying the suspect.
– Original Message – 
Location: 3911 S. Bristol / CVS Pharmacy parking lot
Suspect Vehicle: Newer 4 dr. white sedan, stock condition with damage on rear bumper.
Suspect Description: Male, White, 24 yrs., 5'07", 145 lbs., wavy brown hair, wearing blue jeans torn at the knees and blue shorts under his jeans.
Synopsis: On 08/10/2016 at approximately 5:26 p.m., the 73 year-old victim arrived at the CVS Pharmacy located at 3911 S. Bristol Street. She was approached by the male suspect who parked next to her vehicle. Throughout the period of several minutes, the suspect spoke to the victim (ruse) about fixing scratches to her vehicle paint. Once the victim began to walk away from the suspect, he grabbed her purse knocking her to the ground and fled in his vehicle in a northbound direction on Bristol Street. Detectives believe that there were several other customers/possible victims who were contacted by the same suspect who may be able to assist them with additional information about the suspect and his vehicle.
Surveillance Video: https://www.youtube.com/watch?v=nbhRnhldn3s