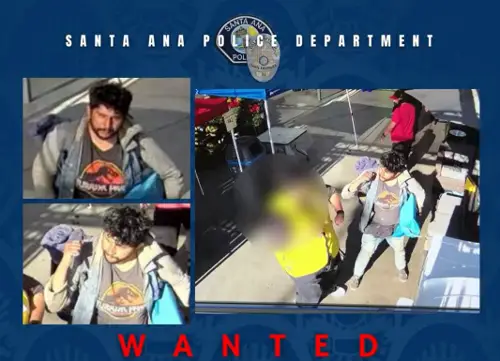 On 3/15/2022, the wanted suspect selected a camping item and approached the victim at the exit. The victim contacted the suspect and asked for the receipt. The suspect brandished a large bladed knife in his right hand and told the victim to get away. In fear for his safety, the victim backed away from the suspect.
The suspect exited the store with the item and was last seen walking eastbound on McFadden Avenue toward the riverbed.
Location: 3600 W. McFadden Avenue – Walmart
Suspect: Male, Hispanic, 5'6"-5'8" tall, 170-190 pounds, 25-35 years old, armed with a large bladed knife.
Anyone with information on the identity or whereabouts of the suspect is asked to contact Detective Greaver at (714)-245-8362 or Dgreaver@santa-ana.org.