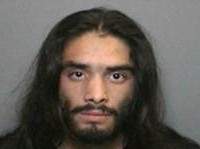 As we reported earlier today, 16-year old Alex Adrian Ramirez was shot to death late last night  at the 3600 block of West Hazard Ave..
A witness told the police that indicated that he and Ramirez were standing to the front of the location when the shooting occurred. Morales stated he saw a dark colored, possibly 2 door vehicle and heard a single gunshot.

But SAPD police investigators eventually decided that the story about the shooting was a lie., according to KTLA. Police detectives then obtained a search warrant for the home and they found evidence in a bedroom that led them to believe it was the scene of the shooting. They also found a weapon believed to have been used in the shooting.
The SAPD is now looking for 21-year-old suspected gunman, Matthew Granados, as their investigation continues to evolve. The police don't know if the shooting was intentional or accidental. Ramirez, was shot in the upper torso.
Granados is considered to be armed and dangerous. Police detectives believe that he may have access to other weapons.
The SAPD also arrested Granados' father, Alexander, on suspicion of being an accessory to the killing. The suspect's mother also helped him get away before police arrived, according to the SAPD.
The police do not believe that Ramirez had any gang ties.
Ramirez was a talented skateboarder. He is being mourned by the entire skate community today.