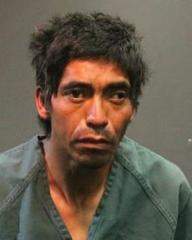 Santa Ana Police Department
Advisory: Naked Prowling Suspect Taken Into Custody with the Assistance of a Community Member and the Media
Arrested: Daniel Posadas Renteria (34), transient
On 10/27/18 at approximately 7 pm a suspect was caught on surveillance video in a residential backyard. The suspect was naked, peeping into the residential windows, and masturbating. With the assistance of the media, surveillance footage of the incident was released and broadcasted through various news outlets.
A community store owner contacted one of our Field Operations Sergeants advising he had seen the story on television and recognized the suspect as a subject who frequented the area of his business.
Today, at approximately 11:15 am, an employee from the business called Santa Ana Police Department advising the subject seen in the television news story was loitering in the area of the 2700 Block of Westminster Blvd.
Officers took him into custody without incident. Detectives interviewed the suspect and he was booked into the Santa Ana Jail for PC664/459 – attempt burglary, PC314.1 – indecent exposure, PC647(i) – peeping, as well as outstanding arrest warrants.