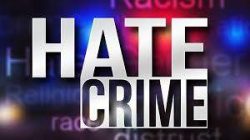 Felony hate crime and other charges were filed Tuesday against Bryce Cameron Agius, 27, a man accused of directing racially derogatory comments at four Latino men, throwing a knife at a Costa Mesa police officer and head-butting another officer when taken to jail, according to the O.C. Register.
Agius, who is white, is charged with four counts of committing a hate crime and one count each of assault with a weapon on a peace officer and resisting arrest, according to Deputy District Attorney Jake Jondle, according to CBS News.
Costa Mesa police officers were dispatched just after 6:30 p.m. Saturday to Newport Boulevard near 18th Street near Lions Park.
When officers arrived at the scene, Agius threw a knife toward an officer, prosecutors said. The weapon missed and landed eight to 10 feet from the police car, according to the L.A. Times.
While at the city jail, Agius also head-butted another officer, according to the OCDA.
Agius' next hearing is scheduled for Nov. 7. He faces a maximum sentence of eight years and four months in prison if convicted. He is being held on $50,000 bail.