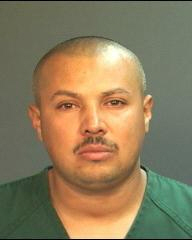 Advisory: Santa Ana Police Arrest Suspect in 1995 Cold Case Murder
Santa Ana Police Arrest Suspect in 1995 Cold Case Murder
Arrested: Naranjo, Jose Luis (33) Santa Ana
Details:  On 9-30-1995 At approximately 2355 hours, officers were dispatched to a shots fired call with a subject down in the area of 2041 S. Hickory. Upon arriving, Officers found the victim down in the street. The victim, later identified as Buddy Sifuentes, had been shot several times in the upper torso and was dead on the scene upon arrival of paramedics.
Sifuentes, who had been with several other subjects standing out in front of 2041 S. Hickory, was shot by the right front passenger in a vehicle described as a white Pontiac or Buick. The described vehicle had driven northbound on Hickory, slowing in front of the group, and then the right front passenger, who was described as a male Hispanic, 16 years of age with a shaved head, fired into the group with a 9mm handgun as they drove past.
Sifuentes was hit two to three times in the upper torso and died at the scene. Two other individuals were transported to Coastal Community Hospital by friends, sustaining gunshot wounds to their upper and lower bodies. None of these wounds were life threatening. The crime scene investigation revealed thirteen expended 9mm casings to have been fired from the suspect vehicle.
On 3-19-2012, Gang Homicide Detectives with new leads in the cold case murder re-contacted a possible suspect from the original investigation, Jose Luis Naranjo of Santa Ana. As a result of information obtained in the interview and new evidence in the case Naranjo was booked in the Santa Ana Police Department Jail for Murder.
For full details, view this message on the web.
Sent by Santa Ana Police Department, 60 Civic Center Plaza, Santa Ana, CA 92701
To manage your email settings, click here. To update your account settings, login here.