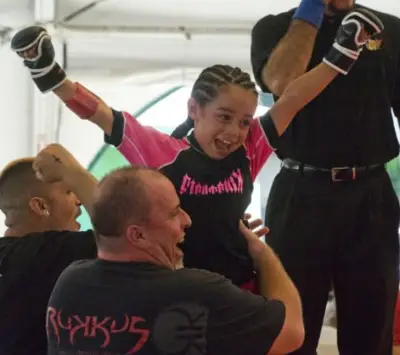 Are you ready for a free MMA-inspired clinic, right here in Santa Ana?
Fighting for Fitness is an Orange County-based 501c(3) non-profit organization which is hosting a free MMA-inspired fitness clinic for children ages seven to 17 at Roosevelt Elementary School in Santa Ana. The event is open to the public and takes place Sunday, March 25. Registration is 11-12 p.m., clinic 12-1 p.m., and refreshments 1-2 p.m.
What a great way to learn more about childhood obesity and ways to prevent it!
According to the American Red Cross, about one in three American kids and teens is overweight or obese today, nearly triple the rate in 1963. With good reason, childhood obesity is now the #1 health concern among parents in the United States, topping drug abuse and smoking. Among children today, obesity is causing a broad range of health problems that previously weren't seen until adulthood. These include high blood pressure, type 2 diabetes and elevated blood cholesterol levels. There are also psychological effects: Obese children are more prone to low self-esteem, negative body image and depression.
The Fighting for Fitness clinic will be a great opportunity for photos of kids participating in non-intimidating, fun MMA-inspired workouts. The founder of Fighting for Fitness Karin Toth will also be available for interviews if there are any additional questions.
www.fightingforfitness.org