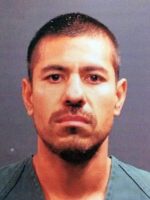 Santa Ana Police Department
Advisory: Detectives Arrest Uber Driver For Sexual Assault & Believe There May Be Additional Victims
Arrested: Angel Sanchez (37) Costa Mesa, Booked into the SAPD Jail on the Sexual Assault Charges and being held on $100,000 bail
During the evening hours of March 30, 2017, a female adult requested an Uber ride from a company gathering to her home in Santa Ana. The female victim was picked up by Uber driver Angel Sanchez in a 2016 Grey Toyota Sienna (similar to the one pictured), and driven to a street near her residence in Santa Ana. There, Sanchez sexually assaulted the victim in the Toyota Sienna.
After the sexual assault, the victim ran from the suspect's vehicle and immediately called the police department for assistance.
On April 1, 2017, Santa Ana Police Special Crimes Detectives arrested Angel Sanchez, 37, at his home in Costa Mesa for the sexual assault. Sanchez has been an Uber driver for over one year.
Santa Ana Police Detectives are asking the public to call (714) 245-8412, if you have witnessed Sanchez commit inappropriate or assaultive behavior. The Santa Ana Police Department reminds all persons using online transportation services to use appropriate caution, particularly when traveling alone.