Alan Alberto Flores, 28, was arrested by SAPD police officers today after he allegedly inappropriately touched several girls at a Santa Ana laundromat, according to KTLA News.
Flores was booked on suspicion of attempted kidnapping, child annoyance and sexual battery, according to the SAPD.
The touching incident happened just before 1 p.m. on Monday, Sep. 3, 2018 at a laundromat located on S. Clara Street, south of McFadden Avenue, a few blocks west of Jerome Park.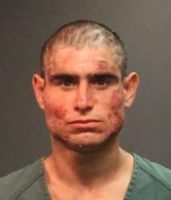 A good Samaritan pushed Flores away when he first tried to touch the shoulder of a girl who was with her monther. Then Flores allegedly asked the girl's mother if he could "have her."
Flores did not stop there. He allegedly tried to grab another little girl by the hand as she sat next to her father. Once again a good Samaritan got involved and discouraged the suspect.
Undeterred Flores then grabbed several kids who were outside the laundromat on their buttocks as they walked by.
Flores told the arresting officers that the little girls were flirting with him. But the store's security video showed that the girls were just trying to get around Flores as they passed him on the sidewalk.
The police are trying to find the little girl who was with her father and the good Samaritan who stopped Flores.
Flores listed his occupation in the booking records as "laborer." His bail has been set at $100,000 pending his initial court appearance which is set for this Wednesday.