The Santa Ana Literary Association will be presenting a new poem by a local poet every week this year. This week's poem is "The Cycle of Black Mercy" by Tongo Eisen-Martin.
The Cycle of Black Mercy
By: Tongo Eisen-Martin
Well I have at least fallen around love
Reading poems next to my friend with Loisaida fire escapes in their teeth
Talking about the gun I'm going to bring to the segregation
Trying to protect children with poems/protect these store-runs
Avenue nights as a hospital bard
I can't make out the system of craft
Is this run the house dust circuit/are these abandoned houses of various rank
art here like karma-less soldiering
Falsifying my first solo on this stage/ on this rickety enemy-ness
Ladies and Gentlemen, here to make some warmongering of your night
these receipt paper poems
Adorning my red eyes with a self-inflicted fatherhood
Over-policed eyes
state impressionism bouncing back and forth between skin and ski mask
an emotional range or wobbly self-portrait
amongst these church giants
calcified personas present /grown man depression
scraping cotton against uptown silhouettes/see in their shadows all manner of bombs
king of the poems, baby
genuine marvel of the history of poems
welcome to the mild bourgeoise
revolution street fairs/our weariness
well-proven socialism/ the death of both your and my hip-hop, Lord
make your greenback ruling class confetti/art somewhere in this
earn stripes with three hands/cut God off of your shirt
look out at the world from the inside of an ink stroke
I don't mind the Mississippi steel, sir, but may I have a saxophone from a different city
bright lights/lethal injection routine/last words/Is My Family Here
take all disrespect as the universe in motion
I write poems today
I kill america today
five-year anniversary of my style (swamps talking/ midsize activist files like songs sitting under the street/ Slave castles growing and growing/ keeping notebooks alive the wrong way/ human temper sitting still)
going to Afrika in mysterious ways
the harp that turned the hand toward the Founding of Chicago
you know what my trick is, grandson?
I am weak first
Before anything, I first become weak
Kick a hatchet down the street/ then all around a city
a grandmother's Milwaukee
or the gods my grandmother robbed
fresh faces in the spirit house/ a spirit house we've put behind the sun
We have God's permission to make a plan
Gradually, the poem becomes decently empty
You know, be weak
Let the ability to write slip
until only one fingertip is left on the handle
then, in a flash, return with a slave castle in a cup of change
"Ladies and gentlemen:
We assure you that tonight's entertainment is not judging you…We paid them…really well."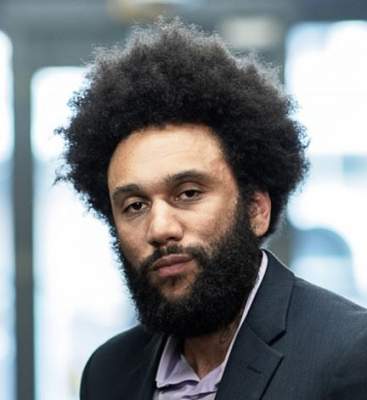 Tongo Eisen-Martin is an African-American poet and activist. He is the current Poet Laureate of San Francisco, California. He is the author of someone's dead already (Bootstrap Press, 2015), nominated for a California Book Award; and Heaven Is All Goodbyes (City Lights, 2017), which received a 2018 American Book Award, a 2018 California Book Award, was named a 2018 National California Booksellers Association Poetry Book of the Year, and was shortlisted for the 2018 Griffin International Poetry Prize.