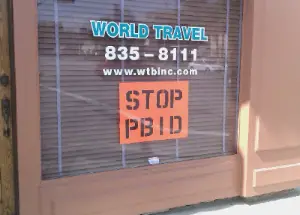 In the end the Santa Ana PBID tax may finally die – but it won't be because our City Council had the guts to get rid of it.  Instead it is on its last legs because some Council Members are on vacation, others cannot vote on PBID matters due to conflicts of interest, and Council Member Carlos Bustamante is refusing to attend public sessions of the City Council, according to the O.C. Register.
It is too bad our City Council did not have the guts to get rid of the PBID outright.  And it is sad that the Downtown businesses are going to get stuck paying this tax again for another year.  But I do hope that this will prove to be the end of the PBID.
Whether or not the PBID has been successful is besides the point.  The OC Grand Jury found that the PBID election was basically rigged.  Downtown Inc. has done a great job in many ways but it is true that many Downtown businesses have not benefited from this tax.  They have paid thousands of dollars essentially to promote other businesses.  It isn't right.  It never was.  Good riddance.  Bad news though – the County of Orange could extend the deadline for the Council to vote on this.  Let's hope they don't!
Kudos to Santa Ana Mayor Pro Tem Claudia Alvarez for taking a stand against the PBID.  I believe that Council Member Sal Tinajero was ready to vote against it but he went on vacation and was not available at this week's Council meeting.