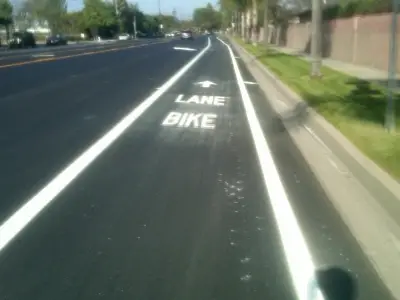 Bikeway and Pedestrian Master Plan Update
Work efforts are underway for the City of Santa Ana Circulation Element Update. This project includes updating the existing Santa Ana Bikeway Master Plan and creating a Pedestrian Master Plan. Currently, the existing conditions of bicycle and pedestrian facilities are being inventoried and mapped. User needs assessment that requires community input will follow. A series of Open Houses and public meetings will be scheduled between February 2012 and July 2012.
At this point only the initial open houses are schedule as noted below. A City staff Bike Audit is also scheduled for December 14, 2011 from 1pm to 4pm, departing from City Hall.
1st Community Open House
Wednesday, February 8, 2012
4:00 p.m. to 7:00 p.m
Santa Ana Senior Center
424 W. 3rd Street
2nd Community Open House *
Saturday, February 11, 2012
10:00 a.m. to 12:00 noon
Southwest Senior Center
2201 W. McFadden Avenue
*Includes an optional 4 mile guided tour by bicycle from 9:00 a.m. to 11:00 a.m. You are required to bring your own bike and helmet. For those adults wishing to participate, activities for young children will be provided during the open house.
The draft Bicycle and Pedestrian Master Plan is expected to be prepared late summer 2012. The final Bicycle and Pedestrian Master Plan is expected to be completed in December 2012. Look for upcoming Bicycle and Pedestrian Projects future issues of Santa Ana Councilwoman Michele Martinez' Monthly Connector.