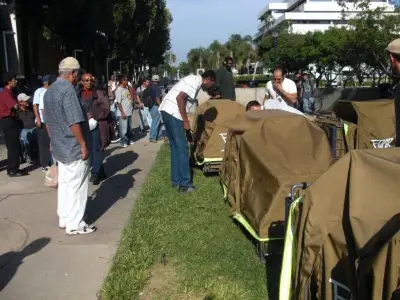 It has been getting quite cold at night.  Of course most of us are sheltered from the cold.  We live in heated homes with warm beds and snug pajamas.  But as comfortable as most of us in Orange County are, there are many who suffer in the elements.  They are the homeless and those of us who live in Santa Ana know more than those in, say Irvine, what a problem this is – as so many of the homeless gather in our Civic Plaza every day.
Dwight Smith, a longtime advocate for the homeless, who is part of the Catholic Worker organization, recently contacted the members of Santa Ana Occupy, to bring them up to speed on the dire straits faced by the homeless.  Unfortunately, asking an angry mob to actually work constructively with our elected and appointed officials is not exactly an idea that will bear fruit, but Smith is right – something must be done.
Here is Smith's letter to Santa Ana Occupy:
Dear 99%,
I'm begging you to consider leading the OC toward humane behavior in four areas. We have a kitchen, a budget, and willing workers – all the elements to get communities organized. There are four issues which could greatly benefit from the kind of leadership you demonstrated during the first phase of the Occupation of Santa Ana. Please consider lending your leadership to any one of these areas:
There are no public restrooms in the Civic Center after 8PM and before 6AM.
Unlike LA and San Diego Counties, EBT cards given to the homeless cannot be used in restaurants, denying the homeless pre-cooked food and 24/7 restrooms, many of which require a token to enter.
Homeless men are not allowed to use the computers in the Santa Ana public library.
Although there are no emergency shelter beds available daily after 2:30, the SAPD nevertheless, in contradistinction to Tobe v. Santa Ana, can arrest the homeless for "camping" upon all public property within the city.
I have attached my magnum opus, the culmination of fifteen years working with the homeless. Because I am a volunteer, I don't need to be successful to be funded. As a result I can reveal the criminal failure that characterizes the OC utter dereliction of the homeless. I'm happy to point out the conspiracy that virtually guarantees subsequent tax-dollars will likewise be totally wasted.
Please honor me and my decade of failure by reading the attached paper, and then volunteer to organize the OC on behalf of the poor.
Feel welcome to call my cell at (714) 469-4603, or to give it out freely.
Thanks for listening,
Dwight Smith,
occatholicworker.org
PS. We are (bad, mostly) Catholics, but our work is not; All are welcome to join in the struggle for the homeless poor.
Check out the O.C. Catholic Worker's Facebook page by clicking here.