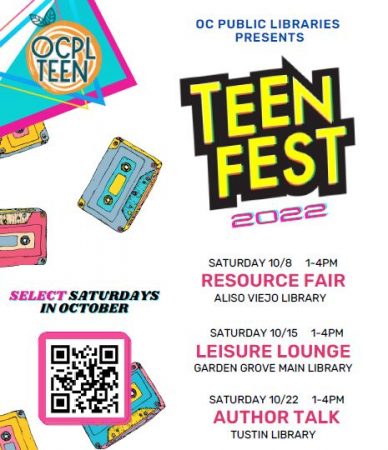 SANTA ANA, Calif. (September 30, 2022) – During the month of October, OC Public Libraries will celebrate TeenFest, an annual series of library events celebrating teens! TeenFest aligns with the American Library Association's TeenTober, a nationwide celebration hosted by libraries every October. The events aim to celebrate teens, promote year-round teen services and the innovative ways teen services helps teens learn new skills, and fuel their passions in and outside the library.
Who will you vote for in the OC 2nd Supervisorial District?
OC Public Libraries will host three in-person events during select Saturdays in October, from 1pm-4pm. The events are free and take place at the Aliso Viejo, Garden Grove Main and Tustin libraries. Each Saturday will have theme-related programs.
On October 8, the Resource Fair will provide teens with ways to explore careers, mental health resources, and acquire financial and nutritional literacy. On October 15, Leisure Lounge will allow teens to explore new hobbies, participate in arts, crafts, games and attend a How to Cosplay panel.
TeenFest 2022 will culminate in a conversation with Dana Schwartz, bestselling author of the #1 NY Times best-seller and Reese's Book Club pick, Anatomy: A Love Story, writer for television and film, and host of the history podcast Noble Blood, on October 22 at the Tustin library. In addition to the featured author, Dana Schwartz, teens will meet Susan Azim Boyer, author of Jasmine Zumideh Needs a Win, and Amanda Glaze, author of The Second Death of Edie and Violet Bond, during a panel discussion.
OC Public Libraries TeenFest 2022 Events:
Teens and their families are welcome to join in the fun at TeenFest 2022! For more information on OC Public Libraries programming and services, visit ocpl.org.